Welcome to the website for the voice of Catholicism on the airwaves in southeastern North Carolina.  You're at the right place if you want to learn about or listen to truly Catholic shows like Catholic Answers Live,  the Drew Mariani Show, and many, many more including our own Carolina Catholic show. 
---
Traditional Latin Mass, October 25
The Lower Cape Fear Deanery sponsors a Traditional Latin Mass on the fourth Sunday of each month at the Basilica Shrine of Saint Mary at the corner of 5th and Ann Streets in downtown Wilmington. Mass is offered at 5pm.
Confessions will be held prior to Mass until 4:45.
Click the link above for the Mass propers. Bring your 1962 Missal and bring a friend!
---
Carolina Catholic talks to NC's Values Coalition
For its October show, Carolina Catholic chats with Tami Fitzgerald, the executive director for the North Carolina's Values Coalition and the former chairwoman of Vote FOR Marriage NC, the official referendum committee that successfully passed the North Carolina Marriage Amendment (DOMA). She successfully lobbied the General Assembly to get the Marriage Amendment placed on the ballot in May of 2012 and then led the Vote FOR Marriage NC Referendum Committee as its chairwoman, resulting in passing the Marriage Amendment by 61%. In this show, Tami speaks about the Planned Parenthood videos released this past summer, the Obergefell decision, and SB 2, a new law which allows North Carolina magistrates the right to be recused from performing any marriage upon any sincerely held religious objection.
This show will air Saturdays at 11 am and Sundays at 6 pm. The dates are Saturdays, October 3 and 10, and Sundays, October 4 and 11.
---
Life Chain 2015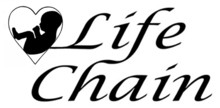 For the 25th year, Wilmington will join over 1500 cities in the U.S. and Canada for Life Chain 2015 which will be held on Sunday, October 4 from 2:30 to 3:30pm. Life Chain IS NOT political or confrontational. Life Chain IS a silent prayer vigil by Christians to communicate their opposition to abortion. Participants prayerfully display uniform signs which state the truth about abortion. It is an opportunity for local churches to unite in prayer and stand up for the rights of the unborn.
These are this year's locations which have not changed from the past few years:
St. Mark is on S. College Road in front of Goodnight Sleep Store, UNCW Center for Innovation, and Burger King.
Basilica Shrine of St. Mary is on S. College Road in front of Kmart.
St. Therese is on S. College Road in front of UNCW's open area between Hurst and Crews Drive.
Immaculate Conception is on S. College Road in front of Furniture and Mattress, Dick's Sporting Goods and Ethan Allen.
Or send a check to:
Wilmington Catholic Radio
PO Box 12321
Wilmington, NC 28405
Wilmington Catholic Radio is an apostolate serving the Catholic Church and consistently operating in accord with the principles and truths of the Catholic Faith as expressed in Sacred Scripture, Sacred Tradition and the living Magisterium of the Church. Our goal is to always provide the community with solid Catholic teaching so Catholics can have an easy way to learn more about their faith, and for non-Catholics to learn what the Church really teaches. This is our mission.